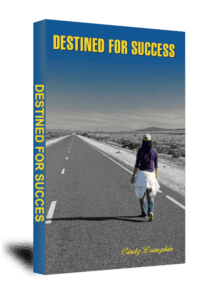 Destined for Success – $12.95 
Destined for Success is a two part book that starts out chronicling the education of the author, Cindy Lumpkin. After several years of experiencing school failure, Cindy was labeled Learning Disabled. This courageous young lady went on to defy the odds of overcoming her disability to receiving a BA and Masters Degree in the field of education.
In Part II of this gripping book, Cindy takes the reader on a journey to personal empowerment- a journey of getting to know you and overcoming life's circumstances, whatever they may be. Cindy takes you into your past, present, and future; through many twists and turns; highs and lows; and around dark scary corners. In the end however, she helps you discover the light within you.
"This is quite simply one of the most powerful pieces of literature I've ever had the pleasure of reading. Every Education major nationwide should own this work."
– Jemayne L. King – English Professor, Johnson C. Smith
"From the moment I opened this book I was intrigued. Captivated by the story and it's familiarity with my own personal life. Being a mother of a child identified very early to have a learning disability, it gave me the perspective my child has been unable to voice to me. To read the words of a highly admired and very successful adult, who came from where my daughter is, brought me to tears over and over again! It motivated me to keep doing what I know to be right, just like [Cindy's] mother did. Thank you so much for this book Cindy! I think this is a book EVERY PARENT & TEACHER should read! Going forward it will be a gift that I buy for my children's' teachers every year! Thanks so much for your inspiration!"
– T. Maddox, Dallas, TX