Learning disability quotes have the power to encourage, motivate and inspire people to action.
It is an easy way to remind yourself, your students, or your children that they have the ability to overcome life challenges.
When I decided to compile this list, the purpose was for inclusion and not exclusion. Often, when I think about learning disabilities, it's not through the eyes of race.
Research tells us that learning disabilities and ADHD occur across every race and social economic status.
That means it impacts black, brown, white, the rich, and the poor. No one is exempt from this learning challenge.
However, black and brown kids are less likely to see successful individuals that look like them and who also share the same circumstance of having a learning difference.
Needless to say, that famous list of people with learning disabilities has very few people of color listed. In fact, today's youth has little connection to many people on that list in general.
This is one reason that makes this list of learning disability quotes so important.
But, there are indeed several people of color, even younger people that today's youth of color need to know exist.
Because now more than ever, we understand the need for diversity.
There have been calls for diversity in the film industry, in the books our children read, in ad campaigns and so much more.
This is my way of bringing diversity to this very important list of famous people with learning disabilities.
One of the tips I often share with parents and teachers is to share stories of others who also have learning disabilities with their kids and students.
But I also have to be careful and say that children of color not only need to see others who share their circumstances, but some of those people should also look like them.
Here are 10 quotes that will allow your student to see themselves represented in a powerful way.
Learning Disability Quotes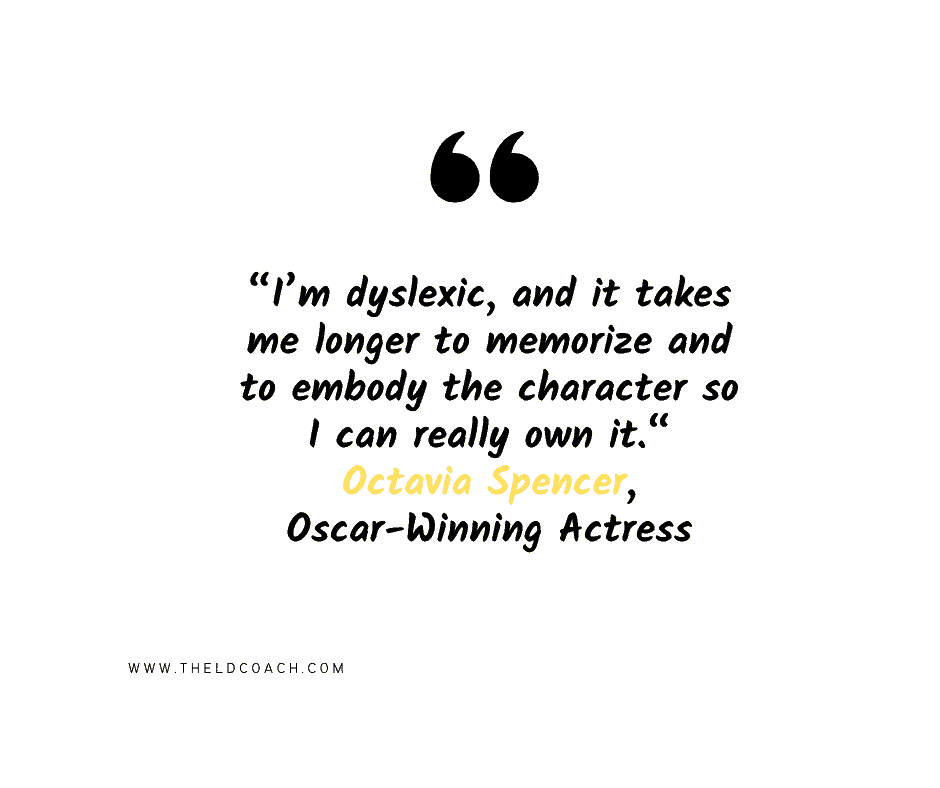 "I'm dyslexic, and it takes me longer to memorize and to embody the character so I can really own it." – Octavia Spencer, Oscar-Winning Actress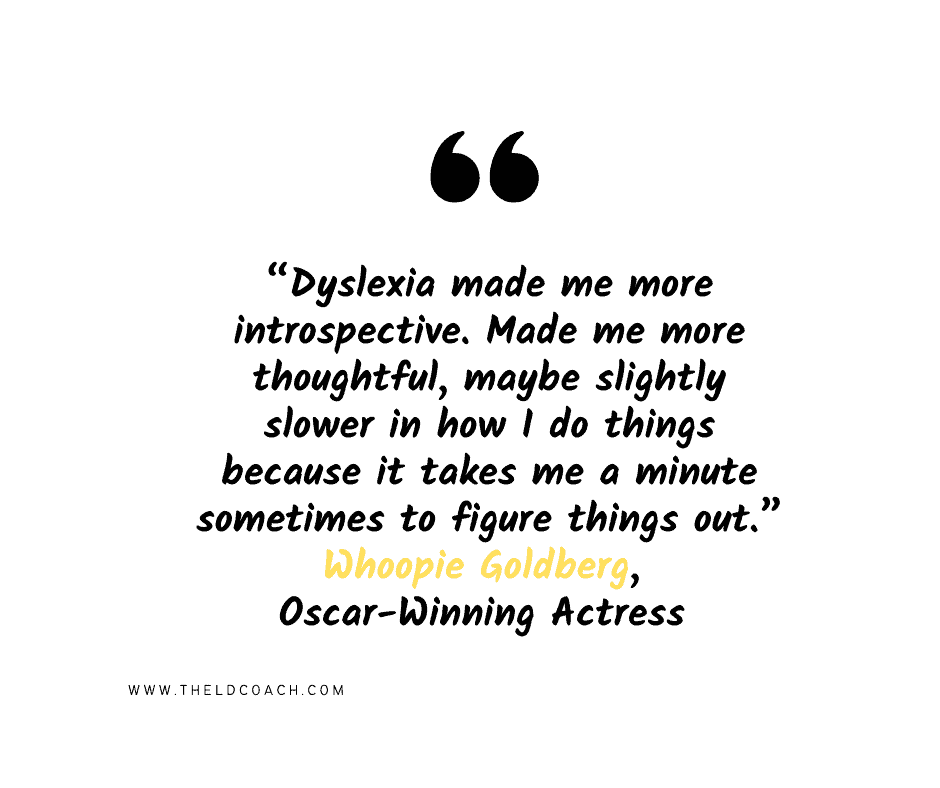 "Dyslexia made me more introspective. Made me more thoughtful, maybe slightly slower in how I do things because it takes me a minute sometimes to figure things out." Whoopie Goldberg, Oscar-Winning Actress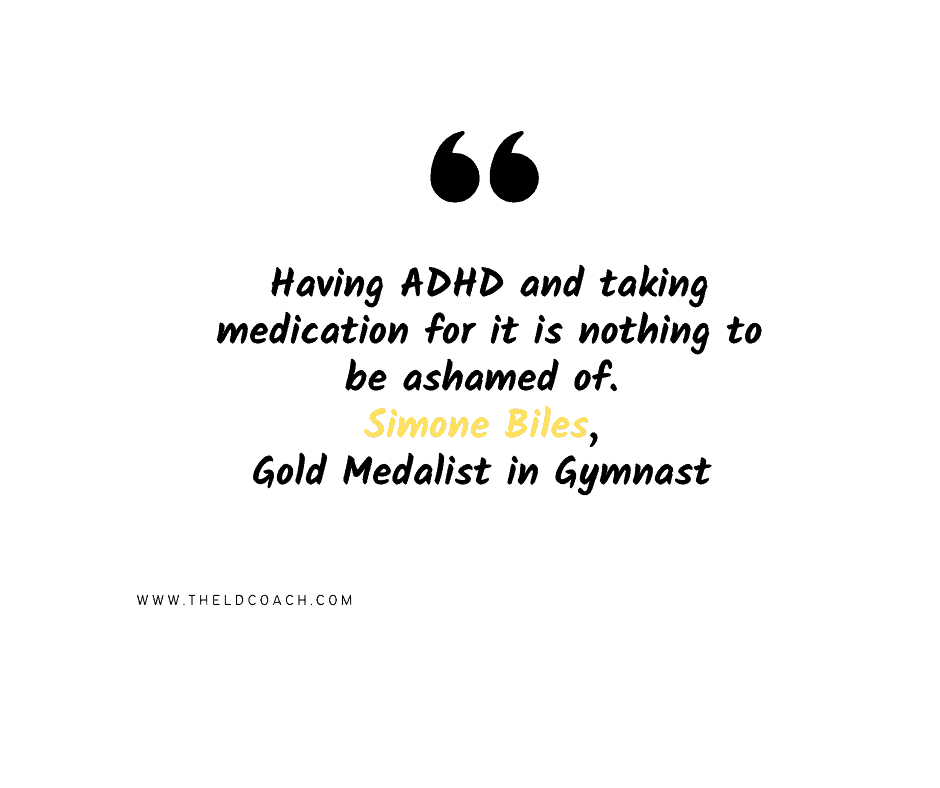 Having ADHD and taking medication for it is nothing to be ashamed of. Simone Biles, Gold Medalist in Gymnast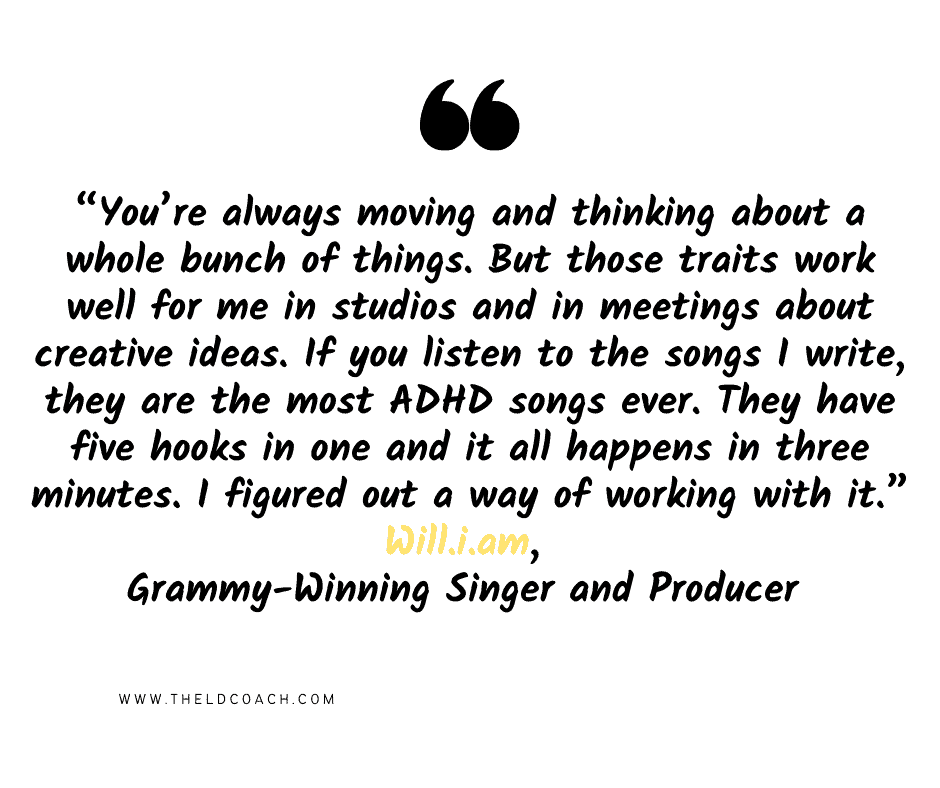 "You're always moving and thinking about a whole bunch of things. But those traits work well for me in studios and in meetings about creative ideas. If you listen to the songs I write, they are the most ADHD songs ever. They have five hooks in one and it all happens in three minutes. I figured out a way of working with it." — Will.i.am, Grammy-Winning Singer and Producer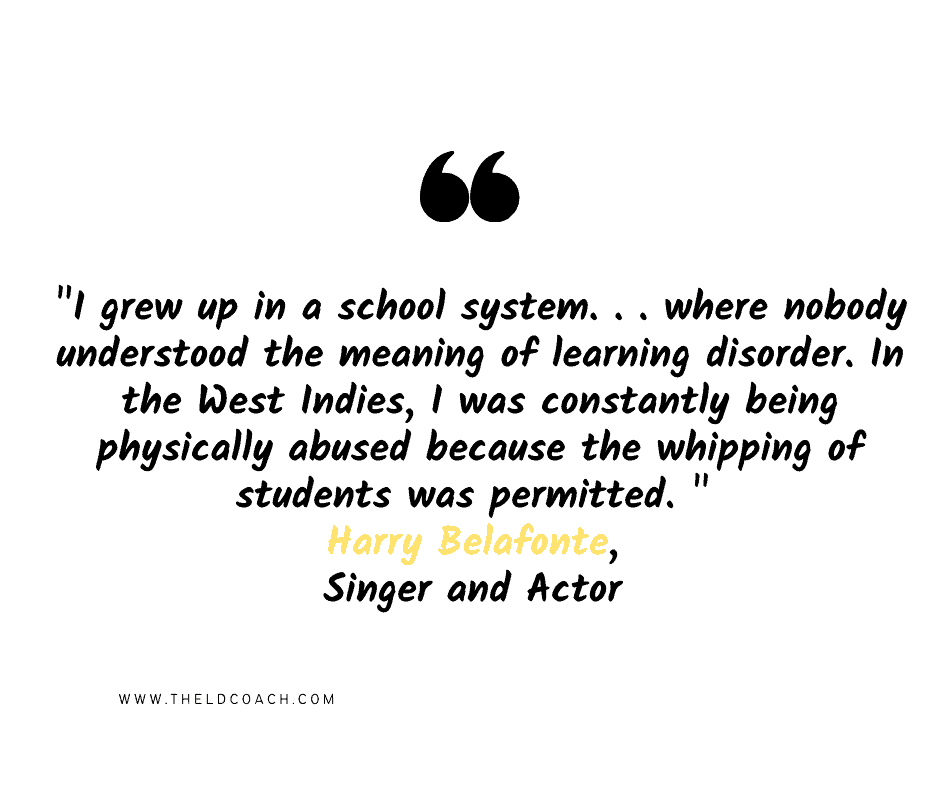 "I grew up in a school system. . . where nobody understood the meaning of learning disorder. In the West Indies, I was constantly being physically abused because the whipping of students was permitted." Harry Belafonte, Singer and Actor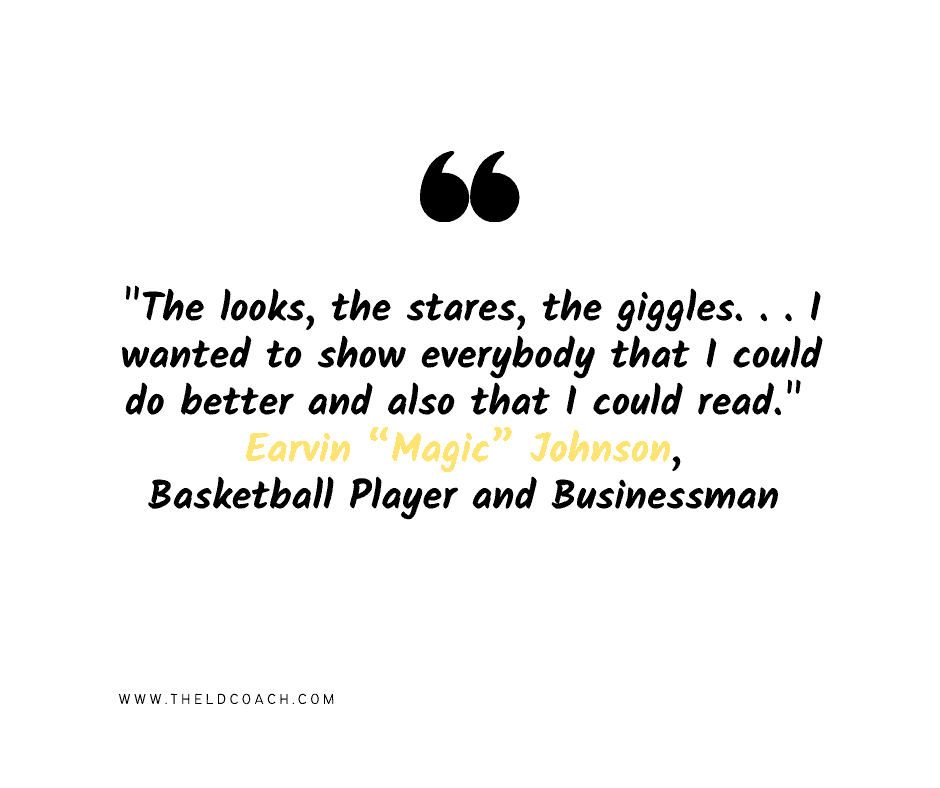 "The looks, the stares, the giggles. . . I wanted to show everybody that I could do better and also that I could read." Earvin "Magic" Johnson, Basketball Player and Businessman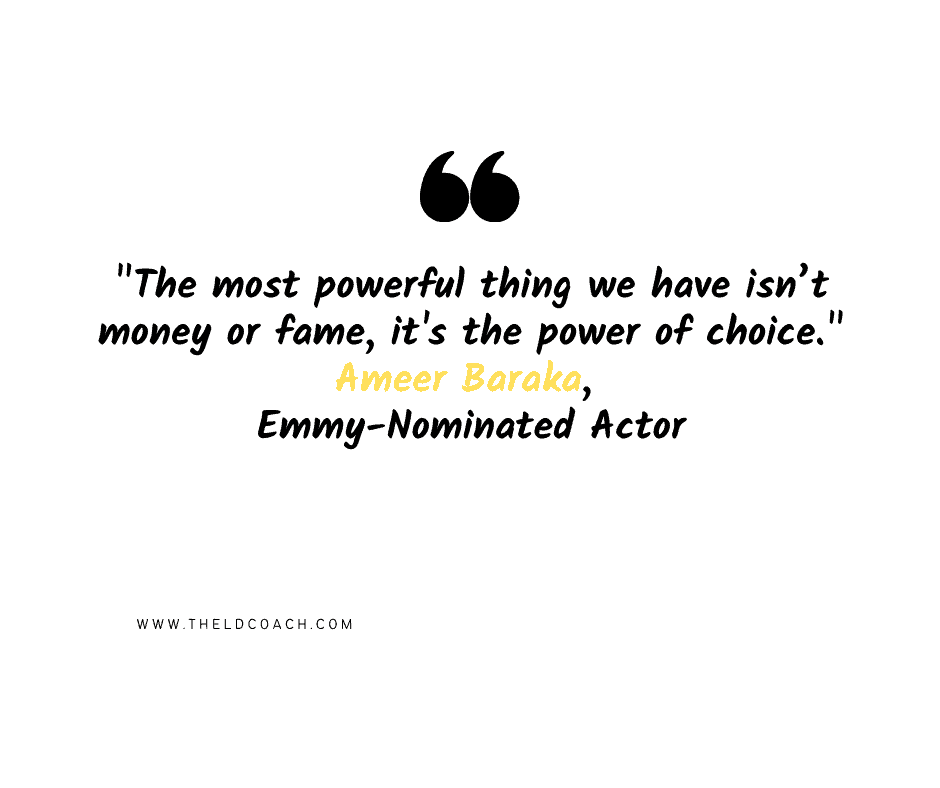 "The most powerful thing we have isn't money or fame, it's the power of choice." Ameer Baraka, Emmy-Nominated Actor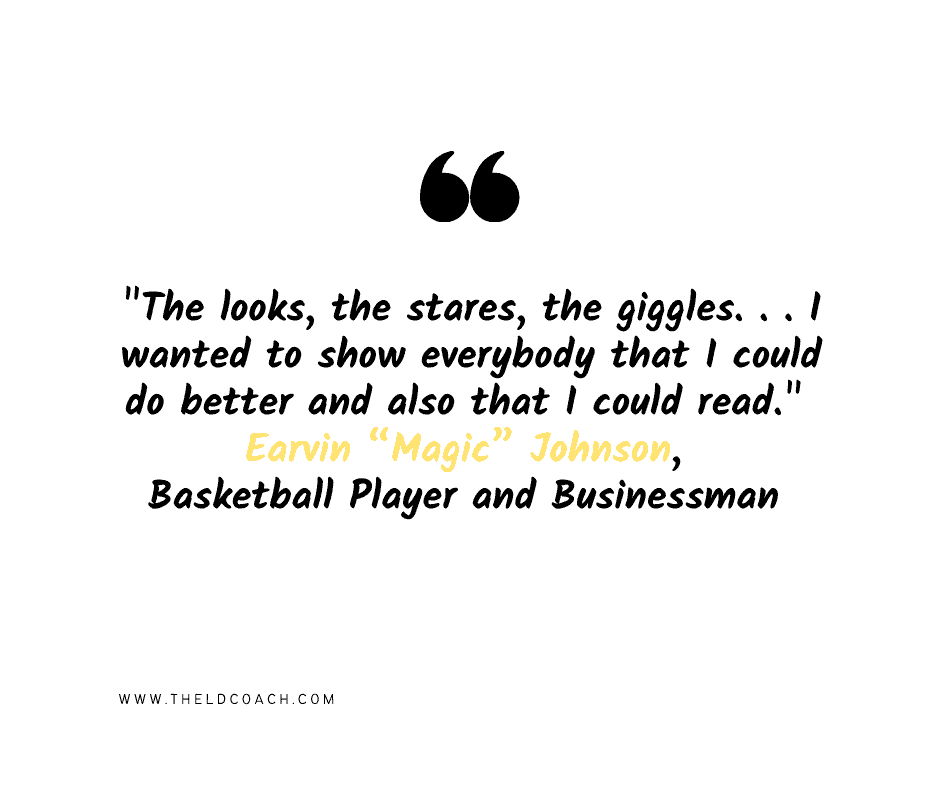 "I know fear is an obstacle for some people, but it is an illusion to me. Failure always made me try harder next time." Micheal Jordan, Basketball Player and Businessman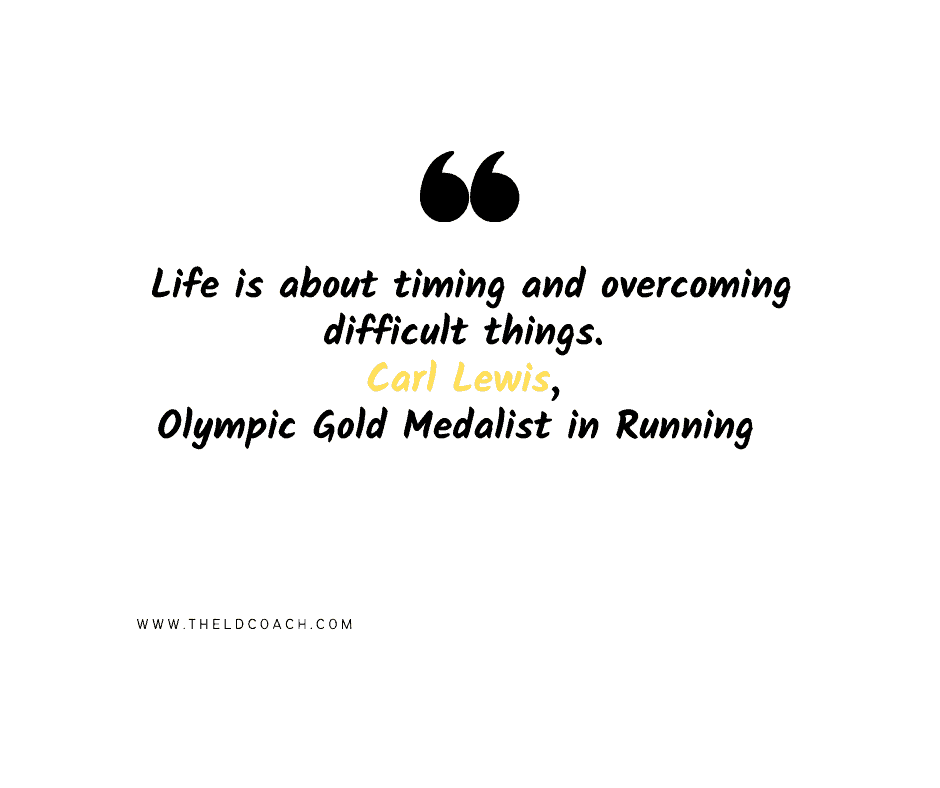 Life is about timing and overcoming difficult things. Carl Lewis, Olympic Gold Medalist in Running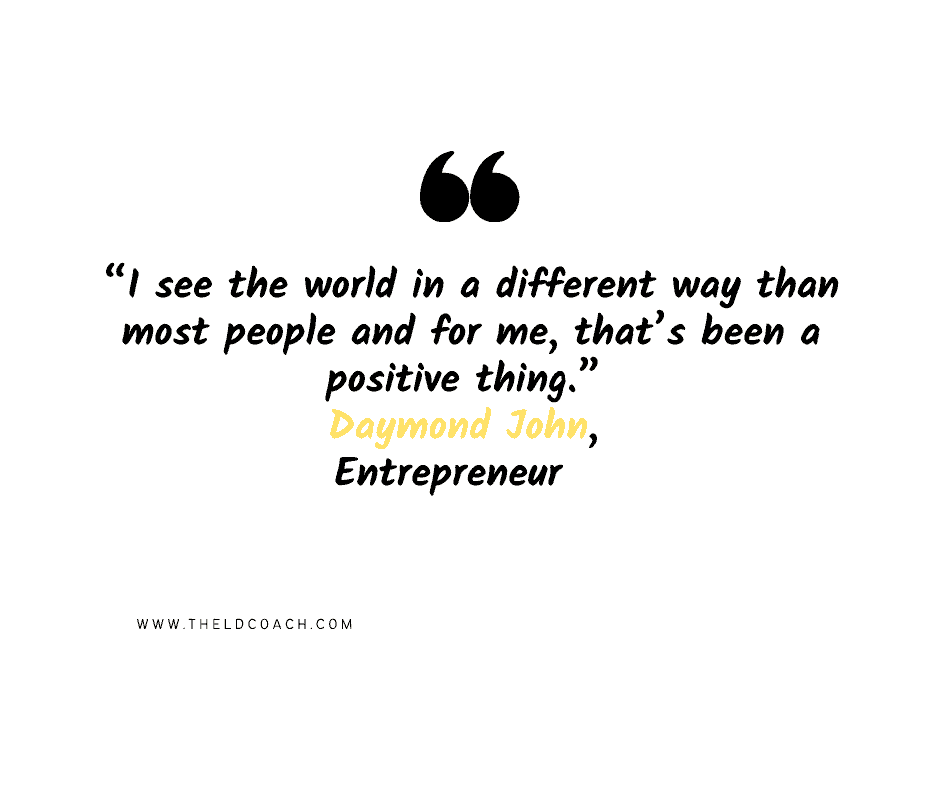 "I see the world in a different way than most people and for me, that's been a positive thing." – Daymond John, Entrepreneur 
All of these quotes are great to use for empowerment. Maybe a student is feeling unhappy or feeling sorry for himself, reading quotes about others with learning disabilities would be a great pick-me-up.
Have the student(s) in your life or even you read these quotes every so often and see how it impacts their confidence knowing that someone who also had struggles like them was able to be successful.
Update: Your Questions Answered!
So, this article generated several other questions that I am happy to answer for you.
What is a learning disability?
According to LDA (Learning Disabilities Association of America)…
Learning disabilities may be defined in practical, medical and legal terms. The common theme in all three definitions is that a learning disability is a disorder in one or more basic psychological processes that may manifest itself as an imperfect ability in certain areas of learning, such as reading, written expression, or mathematics.
Watch this video to get a better understanding of common types of learning disabilities.
How many specific learning disabilities are there?
Many professionals consider there to be about 7, with the top three being the three D's. Find all 7 below. In addition, I did a detailed video on each of the three D's. Click on the name below to get a better understanding.
Auditory Processing Disorder
Language Processing Disorder
Nonverbal Learning Disability
Visual Perceptual/Visual Motor Deficit
Check out this video I did entitle Understanding Dyscalculia or you can read about it here. Both will explain all about Dyscalculia, a math disorder, in a clear simple manner.
Is ADHD a Learning Disability?
ADHD is not a learning disability. It is recognized as a disability under the Individuals with Disabilities Education Act (IDEA). However, a student can have both ADHD and a learning disability at the same time. In fact, research states that 20-60% of individuals with ADHD also have a learning disability present.
Some of My Favorite Quotes
I am so flattered that you asked. I have several quotes that I love. They are not specific learning disability quotes, here are a few:
"If a child can't learn the way we teach, maybe we should teach the way they learn."~ Ignacio Estrada

"Tell me and I forget. Teach me and I remember. Involve me and I learn." Benjamin Franklin

"Every child deserves a champion—an adult who will never give up on them, who understands the power of connection and insists that they become the best that they can possibly be." Rita Pierson

"If kids come to us from strong, healthy, functioning families, it makes our job easier. If they do not come to us from strong, healthy, functioning families, it makes our job more important." Barbara Colorose