Quality reading curriculums for struggling readers do exist, and you don't have to pay a lot.
This article explores five reading programs useful for tutors, parents, and micro-school owners.
So, whether you are a homeschooling mom or a teacher with a microschool or tutoring business, you will find the right reading program for your struggling reader(s).
These reading programs have been chosen because they are affordable, "easy to use," based on the Orton-Gillingham approach, and the science of reading.
What is a good reading curriculum for struggling readers?
Good, effective reading programs for struggling readers will have the following characteristics:
Systematic, that is, a planned sequence for instruction. Think of a builder's blueprint for a house—it's designed and followed step by step.
Explicit means breaking specific skills down into manageable steps, clearly modeling those steps and then engaging the learner in guided practice, followed by independent practice.
Mastery-based, in short, means that students don't move on until they can demonstrate mastery of a given skill.
Multisensory, which means engaging more than one sense at a time.
5 Reading Curriculums For Struggling Readers
1. All About Reading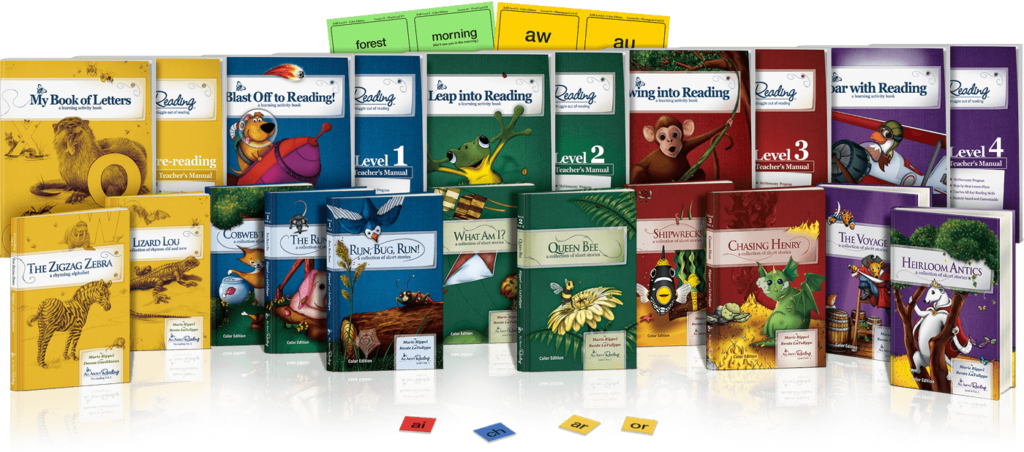 The developers of All About Reading tout the program as being fun and engaging. I have never used this program; however, from the outside looking in, I have to agree.
Based on my research, the program uses play to engage students, along with colorful activities and games to reinforce the lessons. Kids don't realize they are being taught.
It is a scripted and open-and-go program, which means there is little work for you. All About Reading has five levels, which include a pre-reading program.
The pre-reading level has a readiness checklist. This is good because, with struggling readers, one reason they are struggling is that they've missed some foundation.
Pros
Easy to use – 20 minutes a day with little prep
Placement test for each level
Price – not as expensive as other programs
Engaging – colorful, hands-on material and games.
Spelling is taught separately, and as a result, kids can focus on their reading progress.
Decodable readers provide plenty of valuable practice and help to grow confidence.
A one-year money-back guarantee is pretty generous and of all the programs listed here, none have this offer.
It meets the criteria of being systematic, explicit, mastery-based, and multisensory.
Cons
Now, I listed spelling as being taught separately as a pro. However, you can miss opportunities by not teaching it as you teach the sounds. In addition, if you want to teach spelling with this program, you will have to pay more to buy the additional spelling program, All About Spelling.
Note: When considering the cost of these programs, it's important to understand that they offer a more affordable alternative to hiring a professional tutor to teach your children. Typically, professional tutors charge anywhere from $50 to $100 per hour and 2-3 sessions per week over an extended period. By contrast, these programs offer a cost-effective solution that can help your children achieve their academic goals without breaking the bank.
2(a). Reading Horizons Discovery
The Reading Horizon has two different programs, one for younger students and one for older students.
The Discovery program is for students ages 4–9. However, you have the choice of purchasing the online version, instructor-guided material, or a blended instruction bundle.
Although the online program has many wonderful features, I am not a fan of an online-only reading program for struggling readers.
I love the idea of an online component, so the blended instruction bundle would be my recommendation to ensure the student(s) still get direct instruction.
Pros
Different forms of instruction (online, traditional, blended)
Readers have beautiful illustrations and stories
Easy to use
Excellent parent/teacher training and support
Fun games
Cons
Online programs, in general, may not be the best for struggling readers.
2(b) Reading Horizon Elevate
Pros
Designed specifically for students ages 10 to adults struggling readers
Lots of great reviews on their website
Helpful for ESL parents to teach their kids
Excellent reading passages with the program
Option to buy online only, physical material, or blended learning
3. Barton Reading and Spelling Program

My micro-school has/does use Barton. It's a solid program.
However, we paid a little over $4,000 for the complete program. Continue reading; there is a bright side to the cost.
We were awarded a reading grant. If it wasn't for the grant, we wouldn't have purchased the program all at once. It's just too expensive at that price point, all at once.
It has 10 levels. Each level has everything you will need to successfully work with your student(s):
Tutor Training on DVD — or watch online
Tutor Manual with Complete Lesson Plans
Color-coded Letter Tiles
Free Unlimited Support
It meets the criteria of being systematic, explicit, mastery-based, and multisensory.
Pros
Top-notch training and support
Solid- tried-and-true program
Easy to follow and use
Great for older students and adults (not kiddish-looking)
You can purchase individual levels as you need them.
Cons
Price – at 10 levels or purchasing all at once, the price tag is a lot.
Other than the tiles, the material is non-exciting for little people.
You may need more decodable readers for practice.
4. Pride Reading Program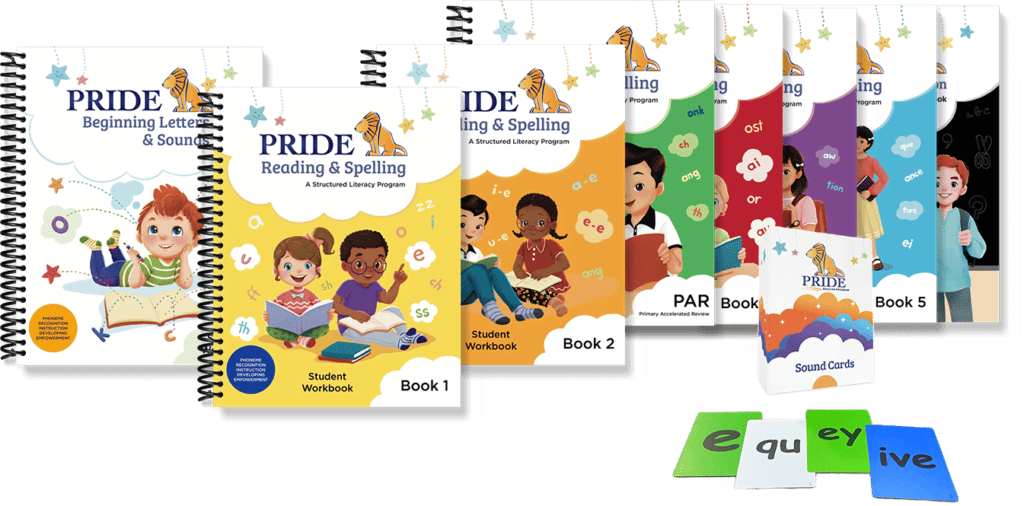 With varying things in common with the other two programs, the curriculum uses engaging, multisensory methods to teach reading, writing, spelling, and comprehension.
The material is very colorful and very kid-friendly. The program has five levels, with a pre-reading level. The suggested length of the lesson depends on age.
20 minutes, 5–6-year-olds
30 minutes 6-year-olds
45–60 minutes for an older child.
Each level typically requires between 40 and 60 hours of devoted instruction to complete. However, with all programs, let your child set the pace.
I do love that the Pride reading curriculum gives you an easy way to find the appropriate starting level for your child.
On their website, you can answer a few questions. Based on your answer, they will suggest a starting level. However, if you are unsure, they have a comprehensive placement assessment you can give your child.
Online Reading Programs For Struggling Readers
5(a/b) Logic of Reading Foundations

The Logic of Reading has two programs as well: Foundations and Essentials. Foundation is for younger students (4–7 years old), while Essential is geared toward older students.
Cons
Most of affordable out of all the programs
Includes a lot of games and extra materials
Lots of phonemic awareness exercises
Colorful student books
Student workbooks are very affordable ($15) which is nice for small groups of students
Handwriting is included
Composition is included in Essentials (for ages 10+) levels
What You Should Know About Reading Programs For Struggling Readers
There is a lot of discussion about the science of reading and programs based in Orton-Gillingham (OG).
Parents and teachers alike want to know which ones are the best to move the needle for students who struggle to read.
However, there is no one right answer. The answer will be different for each unique family and microschool owner.
Factors like the age of students, the degree of the reading issue, family or school size, finances, or native language all play a role in determining which program will be the best fit.
Conclusion of Best Reading Curriculums for Struggling Readers
What other reading curriculums for struggling readers do you know of? Comment below and we will add it to the list. Your feedback would be invaluable as we grow this list.
Have you tried any of these programs? What was your experience like?