What are microschools and is starting a microschool right for you?
Would you believe that I, a teacher, ran a small private school for over 8 years before I realized that what I had was by definition a microschool?
Although I had what fit the definition of a microschool, I still couldn't answer the question, "What are microschools?"
It's true! In fact, I did a Youtube video, How To Start A School, over 3 years ago, sharing my experience of starting a "private school," which has been viewed over 33K times to date.
Not once did I mention the word "micro-school" because it wasn't in my vocabulary. Yet, at the time, I had fewer than 10 students enrolled, and I've never had more than 14 at any given time.
That video inspired so many teachers and people who wanted to start their own school but thought it was out of reach. And why did they think it was out of reach?
The phrase "private school" automatically sounds like you need tons of money, and therefore, many teachers thought their dream of starting a school was just that, a dream.
In fact, if you had told me that I could start a microschool instead of calling it a private school, I would have attempted the process much sooner than I did.
It sounds less complicated and starting a microschool is indeed easier than starting a traditional private school… for the most part. Of course nothing is black and white.
Thinking that I needed lots of money and perfect "school" conditions delayed my opening.
In fact, I've since created more videos and write more blogs about how to start a school. There isn't too much difference between starting a micro-school and starting a private school.
The key is understanding what a micro-school is and its benefits.
What Are Microschools?
Microschools are just that—small. They are still very much private schools, but they are often run more like modern-day one-room schoolhouses.
You can have as few as two students (most have five) or as many as 100 (some may have a little more). Some are independent, while others belong to a network.
These environments are very flexible and free from the bureaucracy of public schools. You don't have to participate in standardized testing or use a mandatory curriculum.
Literally, you have a blank canvas. A teacher's dream!
Who Can Create These Microschools?
Pretty much anyone. However, we hope the people who are establishing these innovative small schools are highly motivated, well-versed in education.
So, that means YOU!! Even if your background isn't in education, you can still make an amazing micro-school leader.
In fact, Tanya Sheckley, author of Rebal Educator (a book worth investing in), wasn't a teacher, but she wanted a school that would educate her neurodiverse daughter.
Not finding anything in her area, so she created it. You can read more about her journey here.
If you have a passion for ensuring better opportunities for students who may not fit in the small box we call traditional schools, keep reading.
How To Start A Micro School?
Although creating your micro-school isn't what I call hard, this is still a business and should be treated as such. It will require hard work and discipline.
So, there is work to be done and you will have your ups and downs. More ups than downs hopefully. Let's roll up our sleeves and get started!
These are the steps I suggest you take to create your micro-school:
Establish Your Micro-school Curriculum
Develop Your Micro-school's Policies and Procedures
Select An Space For Your Microschool
Develop a Marketing Plan
I will walk you through each of these steps; however, creating your school is the first step. You have to open your doors and sustain it.
Starting A Microschool: Sustaining And Scaling
Find Community
Create An Advisory Board
Funding Your Microschool
Develop A Fundraising Strategy
Get Your Microschool Accredited (Optional)
Two things before we get started: My articles are very detailed. I am always adding; however, some sections may not be complete, check back later. Lastly, Advertising Disclosure: A few links in this article may contain affiliate links. I earn a small amount of commission if you decide to go with my recommendation at NO COST to you. I recommend services that I trust and that is why there are very few in my articles. Funds are used to continue to grow my micro-school.
Step 1 Determine The Type Of Micro-school
Let me be clear. Although what I am helping you to create can technically be a private school, you will brand it as a microschool.
You don't want to tell parents or others in the community that you are creating a traditional private school. They will expect what traditional private schools have to offer.
If you are like me, I can't compete with the $30K private schools in my area.
But with my micro-school, I can offer my community something they can't- an amazing education for their children at a much lower price point.
Your micro-school can be religious or non-religious. Some of you will want to start a for-profit while others will choose to start a non-profit.
Some of you will take the extra step to become accredited. We'll talk more about all of this a little later and what it means for you.
If you want to call it a learning pod or homeschool, so be it.
I like to think of a microschool as what you get when you combine a homeschool program with a private school.
(Video coming soon! Let me know in the comments if you are interested in a more detailed video on the differences of micro-schools.)
Your Microschool Niche
When starting a microschool, you have to determine what type of school do you want. Will it be a K-12? How about a middle school or high school only? Who will you serve? 
Plan with the end in mind here. This is the fun part! I am a dreamer, and I hope you are too.
Remember, many microschools have mix aged groups. However, if you just want to work with elementary, middle, high school, or all three- you can!
If you want them all together or separated, it's up to you. This is your blank canvas.
This is where you get to dream up the best school you can imagine to serve your ideal student(s) well.
Maybe you want a day school or virtual program. Is your vision a Montessori or a specialized school for students with learning differences?
It's ok, create your ideal school on paper and dream big!
Your vision may be to one day operate a K-12 program, but you may start off with either elementary, middle, or high school.
The possibilities are endless.
I would start with the end from the beginning here. But actual implementation may be in stages. Again, dream big on paper.
Microschools are very flexible and are able to change and adapt so if you need to change something later or add something, it will not be hard to do.
Just know that it's better to actually start a small school business and grow into your long-range vision of your school.
The cool part about this is that you are the architect.
I totally went against the grain and started with high school first. However, I knew from the beginning that I would work with 3rd-12th by the time my dream is fully realized.
Within about two years, I worked my way down to middle school. Eventually, I will start working with elementary students.
Let's Create Your Micro-school's Identity
When you are creating your school's identity, you need to answer the following:
Who will you work with?
What will your mission be?
What will be your microschool's name?
Create your school brand (logo, colors, etc.).
Remember: "Brand is just a perception, and perception will match reality over time."
When creating your brand, again, start with the end from the beginning. You don't want to leave any stone unturned.
In order to do this, you have to develop a strong brand. Your name matters. Who you are building your school for matters, and even colors matter.
It would be too much to help you build the perfect brand here, but I wrote an article, School Branding For Microschools here. It will walk you through it step by step.
I did create a resource for you that will help in this process. You can find it here.
I actually use my school as an example for you to help make the process easier. Allow it to help your creative juices flow.
Step 2 Determine Your Business Structure
Earlier, I mentioned that this is a business, so when starting a micro-school you should treat it as such. 
All businesses have a legal structure that they operate under. There are several different kinds. I go into detail about those in this article (click here).
I do NOT recommend you start a sole proprietorship. It's best to put some distance between you and the school.
With that said, you will most likely be a limited liability company or a partnership if someone is working with you. There is also the option of being a non-profit.
Whatever you decide, you can have your business formation done for you accurately, quickly, and affordably using a company I trust (click here).
They also have the option to use a virtual address. Take my advice, use it. When you register a business, you have to use an address.
Most likely, you don't have a physical space yet, so you will have to use your home address.
There is just one thing, this is a public record, and your address will be on display. It's an inexpensive investment.
A For-Profit or Non-Profit Microschool
Deciding for or against a nonprofit is critical. As a nonprofit, it's much easier to fundraise. People will give money much more readily to a legal entity or institution than to a person.
If you decide to establish your own proprietary school, you will be on your own when it comes to raising money. That doesn't mean you can't ask people to still donate.
You can, they just can't receive a tax break on their taxes.
If you do decide on a nonprofit, you will have to apply for tax-exempt 501(c)(3) status from the IRS. 
It is important to note that when starting a microschool you can get started and operate while you work toward a 501(c)(3), that is if you decide to go this route.
This is a process. I actually hired someone to do mine. Money well spent, as I didn't have time to learn that process.
However, with the students that I coach, I share how they can have both a nonprofit and a for-profit. I do recommend both at least work toward that (just my personal opinion).
Step 3 Create Your Budget And Business Plan
Don't stress! You've got this, and I am here to help. This part is scary for many people. But it doesn't have to be.
A business plan is important because it will serve as your blueprint for how your micro-school is going to operate.
However, it doesn't have to be perfect, and I don't believe you have to outsource this, at least not right now.
The reason why I don't feel it's a life-or-death document at this point to hire someone to do is that I wouldn't recommend getting a loan. But I do recommend you put one together.
People will take you more seriously as you work to establish yourself if you have a working business plan.
Your plan will show how well-prepared you are. It can also keep you focused as you cast your vision out to the community as well as others from whom you seek support.
I have an excellent resource for you that will help you put yours together with all the components you will need right now.
Micro-School Business Plan Sample PDF Template
If you are in need of a microschool business plan (PDF) template that will guide you with instructions to create your own school business plan, please consider mine (click here).
My microschool business plan sample template has it all outlined for you with instructions on what to put in each section.
Create Your Microschool Budget
Great news here! If you do your business plan well enough, this will be done. This assumes you have completed your budget.
If not, no worries. Keep reading.
The budget, which is part of the business plan, is extremely important. I don't want to minimize this.
When I developed my budget, I focused on a three-year operating budget. You can do the same or focus on one year at a time.
I was very detailed with my expenses and income projections.
I would love to save you time researching line items, you can use my template (click here).
As you project your assumptions about income from tuition, fundraising, and grants, be conservative. Factor in some wiggle room in case things don't go as planned.
I separated expenditures into three categories. I've seen some that only do two.
If you are in need of a budget that lists everything you will need starting out and in the future, please consider supporting me by purchasing my template.
Video coming soon: Determine your tuition
Step 4 Establish Your Micro-school Curriculum
"In America, we have 19th-century school conditions and a curriculum that prepares our kids for the 1990s."
These words were spoken by Heidi Hayes Jacobs and there has never been anything stated that was truer.
I am convinced that the curriculum/standards (pacing) are a huge part of why children are not learning as they should and why well-meaning teachers are pulling their hair out.
However, here is where you have the opportunity to be very innovative and create a program that will truly speak to the type of school you are building.
Understand that there is no special microschool curriculum, you don't have to use the same curriculum you used in public education. In fact, I warn against it- at least in some instances.
Instead, truly use things that will support your learners and further your school's mission and that don't cost an arm and a leg. Education is big business and it really doesn't have to be.
Some people develop their own curriculum, if this isn't your wheelhouse, don't do it. It can be more headache than it's worth.
I use a variety of things.
One of the best, most innovative programs that I've come across to help students with basic multiplication facts is Times Tales.
It's a story-based program that helps children memorize the times' tables.
It's visual and it's auditory! The students simply watch the stories and they eventually start to memorize the tables. It's almost effortless!
In an independent study of Times Tales, "All the students with learning disabilities noted an average increase in score of at least 70%."
Florida National University conducted this study and independently published its result.
What makes Times Tales even better is that it's cost-effective, it works and is made by a teacher.
That is a win/win.
Video coming soon list of things I use
Step 5 When Starting a Microschool You Will Need Policies and Procedures
coming soon….
Step 6 Select A Space For Your Microschool
coming soon…
Step 7 Develop a Marketing Plan
You can't afford to get this wrong. Many times, we think we can just build it and they will come. Well, that is NOT true. Not by a long shot.
You have to promote, promote, and promote some more.
A marketing plan includes all your school's marketing goals and objectives combined into a single, comprehensive plan.
If you've already developed your business plan, much of that information can be pulled from there.
The plan will include detailed information on how it's going to achieve its marketing goals.
Part of that plan could be advertising for students using billboards and ads on social media.
Designing a website and setting up a mailing list to keep interested parents and even current parents in the know should also be part of the plan.
The website doesn't have to be expensive. You could do it yourself. I would suggest having a blog attached to your website too.
The best marketing is free, and a blog can help you get found in Google's search engine. There's too much to go into here, but I give several marketing strategies here.
Having a mailing list is essential too. I use Convert Kit because they have a free plan for up to 1,000 emails. I've used MailChimp in the past, but it's too complicated for me.
Using Convert Kit, allows me to send monthly newsletters easily.
You want to keep your parents and potential parents updated with what's going on in your school, especially those parents who are on the fence about your school.
I've had parents "date" me for an entire year before enrolling their child. But what convinced them, in the end, was all the success stories in my newsletters.
Having a mailing list just makes it so much easier. Convert Kit does a lot of awesome things, too. You can create great landing pages too, and more.
Marketing is one of those things where you need to be consistent. You may not see any results from your labor immediately, but it does pay off.
It can be expensive, but it's more expensive NOT to have a plan and not follow it. You have to be creative to get it all done.
I believe in working smarter, not harder. Therefore, I created a marketing presentation.
I like the way the marketing presentation is laid out. It's not a lot of reading, which most people don't like to do. However, it gets to the point of key information.
I use it in live presentations, and I actually send this to people when I am trying to get sponsorships, backing from small community businesses, or recruiting board members.
If you are interested, you can find it here. Right now it's a PDF, but in the future, I will make it so that you can customize it to fit your brand.
With the PDF version, you will still get to see the same strategies I use to market my school and the key points donors want to know.
Congrats!!!! You've done it! Well, you have done a lot of it. Let's keep going to make sure you get your doors open and sustain what you put together.
Sustaining And Scaling Your Microschool
Step 8 Find Community When Starting A Microschool
If you truly are determined to embark upon this process, I suggest you find other people who are taking this journey as well.
This is my number one piece of advice when starting a microschool, aside from the obvious. Still, many will ignore it. 
Please don't let it be you. This journey can be so lonely.
It doesn't matter if they are across town or out of state. But it is vitally important for several reasons:
Community breeds support. Trust me, you will encounter moments of discouragement. Having community will help you fight feelings of hopelessness that may come on this journey. It can also help celebrate those small victories. It's one thing to have support from family and friends, but it's another to have it from people who know and understand.
It provides connection and belonging. Togetherness is so critical to our experience as humans. Connecting with others who share some of our values, interests, and worldview helps us understand we are not alone.
It provides an opportunity for us to share, give back, and learn from one another. Let's face it, teachers are some of the most giving people there are. It's in us to want to give back. I believe it's an innate desire. There is so much I am still learning from the many teachers I am in the community with. For example, people are often finding new, easier, and less expensive ways to do so many things as it relates to creating and running private schools. I can't possibly keep up with all the changes. But I come close because of connections with people who share their ideals.
Don't underestimate the importance of finding a crew who understands and who can speak to you where you are.
You can start by signing up for my newsletter.
I've been known to give out freebies to those who read and keep up-to-date with my emails. Also, I add LOTS of helpful resources and value to my list.
Step 9 Create An Advisory Board When Starting A Microschool
Please understand the difference between an advisory board and a community, as I discussed above.
Many of you, like me, are the visionaries of your school. You are the founder. We need to be in community with each other, but we also need other people to help carry out our vision.
Contrary to popular belief, no matter what your business structure is, you can have an advisory board. Learn more about these boards here.
Your advisory board will empower you. But they will have less stack in your business. Most likely, they will not see the daily ins and outs.
Who are the ideal people you need on your advisory board?
I would ask a few parents and other influential people in the community.
It would be great if they had a heart for education or young people. However, they don't have to. But they need to have skills that will help you develop your school's business.
I would ask members of your community who have financial, legal, management, and building experience.
You can ask people who are on the boards of other foundations or people who work for these foundations.
Why? Because they know what you don't know. Or, they know the people you don't know but need to know.
Connections are key. One of these people could very well connect you to a resource that you will need. You are always one connection away from what you need.
This group can become the core of your first board of directors if you are a nonprofit.
An advisory board can give you advice in their specific areas of expertise.
They can provide feedback as you make decisions about your school and help you navigate legal and technical things.
Step 10 Funding Your Microschool
In the beginning, most of your school's income will come from tuition. Of course, this is outside of your start-up cost, which sometimes you just have to be prepared to have.
Remember, this is a business.
If your state is a school choice state, there may be funding at the state level. And believe it or not, there are grants even if you are not a 501(c)(3).
Check out the Vela Education Fund (click here). I will update this article with more as I discover them.
For now, the section will focus on a fundraising strategy.
You will need a well-thought-out plan of how you will generate money from multiple streams.
Sorry, bake sales and car washes are not going to cut the mustard. Although they may still have their place, you will not have enough students to make something like that successful.
Step 11 Developing A Fundraising Strategy
You need a strategic fundraising plan. Ideally, you will have someone on your advisory board who can help.
What to Include in Your Plan When Start a Microschool
Over at Donor Box, they identified the following steps as a starting point in creating a strategic plan.
Include your mission
Create objectives
Build a team
Find funding options for different donor types
Use new marketing techniques
Research campaigns by others
Start online fundraising
Including well-planned appeals to foundations and local philanthropists in your plan can pay off. If you can afford it, I would hire a professional to help write proposals and identify donors.
These documents are the gifts that keep on giving because you can use them over and over again.
If you do have to change them, it will only be small things. Nevertheless, you will use them over and over again.
A well throughout and implemented plan can pay off big time.
However, I totally wrote my first few grants myself. Triumph has been awarded over $200K for my efforts alone.
I found The Little Book of Gold extremely helpful. It's for nonprofits, but I totally would use it for educational nonprofits too. So, nonprofit or not, you should get this book.
It will walk you through several of the above points, and I love it because it was written for small and very small organizations. It was so reliable and doable.
I am just starting to seek "professional" help because it can be time-consuming.
I hope that passing it on to someone who is more knowledgeable will help in the long run with getting more money and causing me fewer gray hairs.
However, having The Little Book of Gold in your toolbox will help until you get there.
Nevertheless, not only can a well throughout plan help you meet your fundraising goals, but it can also help you build a deeper connection with your donors.
The Village Schools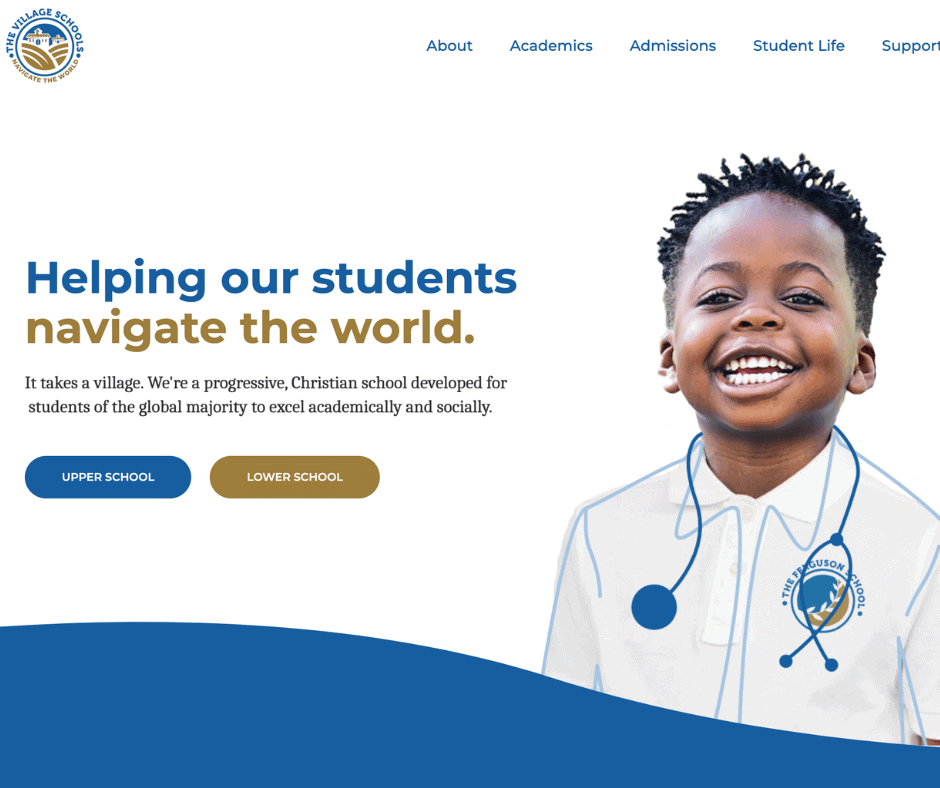 Establishing a connection with your donors is powerful. To give you an example, I donated to The Village Schools because I just love the founder and her vision and mission.
About five days after making my online donation, I got a package in the mail. It was from The Village Schools.
Inside the package was a little stuffed animal with the following written on his shirt, "Thanks for being a friend of The Village Schools.
She hooked me! I felt so important and like a friend. I felt a connection. It will most likely not be my last time donating.
Nevertheless, she wants everyone to walk away feeling like I did.
It's part of her strategic fundraising plan. She also included a handwritten letter. This, too, is part of her plan. Super creative!
I learned all this the hard way, and one of the hardest lessons I learned was building long-term relationships with donors.
They gave a donation, I said thanks, and that was it. In the beginning, I had no way to keep track of them and follow up with them.
Now I know better! I update my donors every so often on new and exciting things we are doing and/or the latest progress with our students.
I send birthday greetings, I was just thinking of you or anything to let them know I value them, not just the check they write.
The Little Book of Gold speaks a lot about donor cultivation.
In order to cultivate my donors, I needed an easy way to store their information to make it easy to send these updates. That is where Donor Box comes in.
You can research it yourself, however, it has been the lowest cost management plan I've found to date to easily accept donations and keep up with my donors.
There are no contracts and no set-up fees. You can ask your donors to pay the fees, and when they do, it costs you nothing. It is also really easy to use.
Step 12 Get Your Microschool Accredited (Optional)
Remember, you don't have to have an accredited microschool. It's optional.
I decided to get my school accredited because I needed to have it in order to get school choice funding in my state.
Each state is different. You will have to research the requirements in your specific state.
You should be able to find information about your particular state here. Simply look for your state and see what the requirements are.
Conclusion of What Are Microschools?
It was my aim to not only answer the question, What are microschools? but to also explain in detail how to start a micro-school.
If you follow all 12 steps listed above, I know you will be able to create an innovative, effective learning environment that will help all students learn.
Understanding what micro-schools actually are and how they may differ from how to start a private school is half the battle.
So, what do you think? Is starting a microschool for you? If so, you have a blank canvas, make your micro-school whatever you want it to be.
Don't forget, if you have questions, please put them below.
You might enjoy my other articles on Microschools: