School branding and marketing are two of the most important parts of your school business. Most often, however, school branding and marketing are afterthoughts for small schools.
I can tell you from experience! When I started Triumph School, I didn't have a lot of money. I saved money by NOT investing in creating a strong school brand. I had to do what I had to do.
This is unfortunate because school branding and marketing could make the difference between success and failure.
However, I am sure a lot of small school founders understand how it can seem like the right thing not to pour thousands into branding. It's a catch-22 situation.
If you don't, you will surely see the impact later, but if you do, you will not have money for something else or another currently, and in some cases, you don't have it to spend, period.
My hands were tied.
Because I didn't have extra income to create a brand, I pieced together elements of branding in a very sad attempt at creating a school brand.
Who am I kidding? I didn't even realize that the few steps I did take were only part of creating my school's brand. There was more that I still needed.
At the time, I just knew that I needed a logo and a website. I did the best I could with the knowledge I had.
But branding is so much more than just a logo and a website.
I got one person to design a logo, another person to do my website, and yet another person to do flyers. There wasn't a lot of consistency. I had no brand standards to share with them.
Therefore, aside from the colors, they all used whatever fronts they wanted.
If I could start over and do things differently, I wholeheartedly would. But I can't, right now. I will one day.
However,  I can share with you what I've learned over the years so that it can give you a better starting point. 
If you don't get your school's branding right, this automatically impacts your marketing strategy.
In the article I wrote, How To Start A School, I talk about creating your school's identity in Step 2.
School branding helps to create your identity, which in turn makes it easier for potential families to learn about what your school has to offer.
So, exactly what is school branding? According to Final Site, "School branding is all about telling a story that people can relate to and putting it in the form of a promise."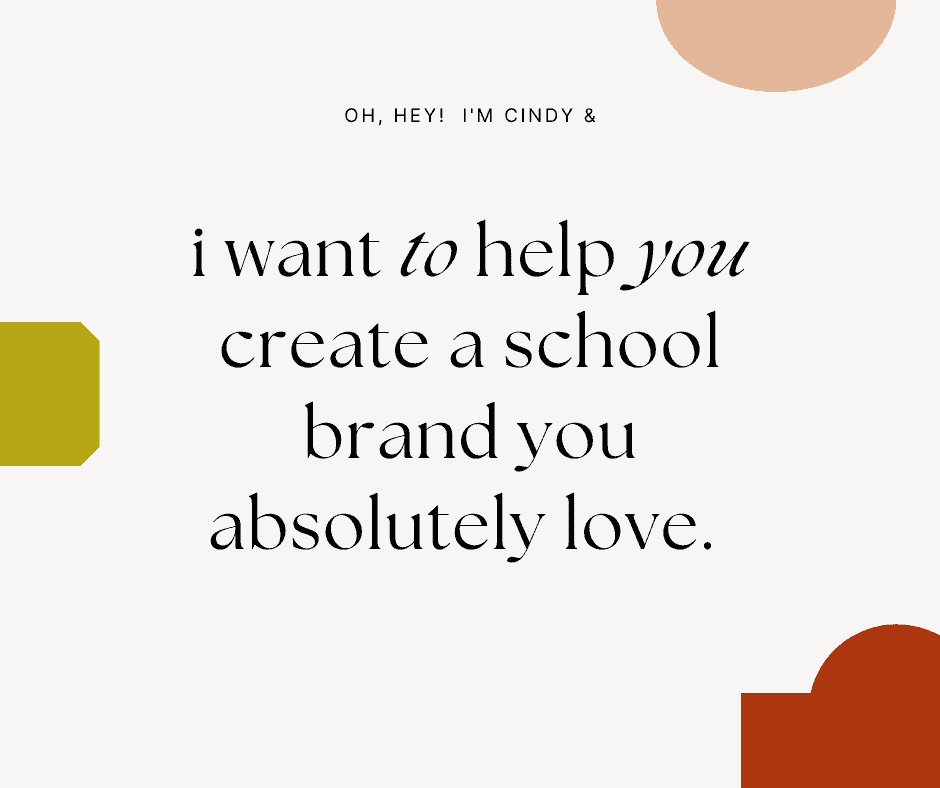 In this article, we will discuss the following:
This post contains affiliate links, which means I may receive a small commission at no cost to you if you make a purchase.
Why School Branding Is Important For Micro Schools?
The following are just some of the reasons why it is so important for schools to develop a strong brand identity:
A strong school brand can help create a unified identity for the school.
It can make it easier for potential families to learn about your school, remember it, and understand what you have to offer. 
Good school branding can help enhance the school's reputation and credibility in the eyes of prospective students, parents, teachers, and other stakeholders.
A strong school brand can help attract your ideal student and increase enrollment.
Effective school branding helps your school to have a cohesive visual brand and messaging.
It communicates who you are and what you're about to staff, students, and parents
It clarifies your mission and what you stand for.
School Branding Design On A Shoestring Budget
Let us be honest! Branding can be expensive. It wouldn't be an afterthought if it didn't cost so much.
Truth be told, we can create a strong school brand on a tight budget. Here are some suggestions to help you stretch your money further.
First things first! Your website and social media presence are probably going to have the biggest impact. Therefore, this is the ideal location for you to direct your attention. Hint: You need a website. (Use your own hosting, I use Hostinger. Use this link and get 20% off.) You also need at least one social media platform where you can reach your ideal family. 
Use free resources. I ADORE Canva for graphic design (I'll talk more about this later), Hootsuite for managing social media (although I haven't used my account in a while, some platforms are allowing you to schedule within their platform), and WordPress for developing websites with Hostinger hosting. I suggest adding a blog because blogs help with SEO. SEO drives traffic to your website… that is FREE traffic helping your ideal family find you. 
Get help from your staff and students. Your school probably has talented students and staff members who can help with photography, videography, writing, and graphic design. Utilizing their skills will save you money.
Stay away from paid advertising, at least in the beginning. Paid advertising can be effective, however,  it can also cost a lot. I once hired a company to do Facebook ads for me for $1,000 a month. I got many leads, but my little budget couldn't handle that much. So now I use paid (I run my ads) and unpaid methods to reach my target audience (Facebook/YouTube).
Make a long-term plan: Create a long-term plan that will assist your school in expanding over time. Therefore, making the most of your resources and concentrating your efforts on a long-term plan will make the process go faster.
Enlist help from your community. Let people know what you are up to in your community and what you need. People love to lend a hand to worthy causes.
Assess and review your efforts often: Track the progress and effectiveness of your school's branding efforts. Measure the response to your campaigns, and use that data to optimize and adjust your strategy moving forward.
By being strategic with utilizing free resources and existing talents around you, you can create an effective brand on a budget that will have a great impact on your school's branding.
What You Will Need For Your School Branding
So if you hire someone to help you create your brand, they will take you through a few steps of asking questions about your mission, vision, tagline, and so much more.
If you will be doing this yourself with your team, I think it is still very important to think through certain questions. This will help make your message clear.
As mentioned above, in Step 2 of my article on How To Start A School, I talk about your school's identity. If you watch the video, "Creating Your School's Identity," I mention homework.
You can access that homework here. There are detailed questions, and I answered them from my own brainstorming session as I continue to improve my school's branding. You can see my process.
This will be a very helpful tool for you. I recommend that you download it. It will also help you generate copy for your branding.
Color & Fonts For Creating Your School Branding
You will need to decide on your colors. According to the Wix blog, your brand colors should be a palette of five to ten colors that are used to represent a specific company or school in our case.
Here is where Canva comes in again. It is worth upgrading from the free version. You will be able to store your colors there and always be able to access them when you create designs.
Not only that, you can store your fonts. That's right, your fonts. They even have several to select from. This is invaluable.
You can also use a platform called Fiverr to find people with tremendous talent at a more reasonable price. They even have designers who are pros at working with Canva.
You can get your colors and fonts from Canva, and I believe Google has some too. Give them to the designer to do your logo, or better yet, let them help you select 2 or 3.
The designer can obtain the exact codes so that you can save these assets in Canva and use them whenever you create school materials.
I can't tell you how important it is to keep up with them, but to be able to use them without having to keep uploading them is huge.
Eventually, you will be making lots of posts on your social media platforms to keep your parents and ideal parents engaged.
Upgrading Canva would be a good move for you.
Learn how to make your school's branding tell your story. Remember that using brand colors and fonts consistently and strategically can raise awareness of your brand.
School Branding Best Practices For Micro Schools
It can be difficult to build a strong brand for a small (micro) school, but there are some things you can do to make it easier. Listed below are some best practices:
The purpose and guiding principles of your school should be made very clear. Understanding what sets your school apart from others is essential because your school branding should represent the values and objectives of your school.
The branding process ought to involve stakeholders. This includes parents, educators, employees, and other community members. They might provide insightful advice and data that could help shape your branding efforts.
Brand your business consistently across all of your platforms. This includes any method you employ to promote your school, including your website, social media, and advertising. Your school's branding will help the community form a favorable opinion of it. Unfortunately, my brand wasn't the strongest and I am still trying to improve it now.
Think about utilizing an expert. Consider hiring a reputable branding agency or marketing consultant to assist with the process if your school lacks the tools or knowledge to create a branding strategy on your own. I had to say that, but if you are like me, right now it's you and the people you get to help. The Village Schools and Kind Academy are some micro-school brands that I've looked at for inspiration and you can find other more traditional schools here.
When promoting your school, be imaginative but truthful. Families and students will be more drawn to a brand that is upbeat, sincere, and innovative.
Spread your brand through a variety of channels. Utilize banners, pamphlets, school apparel, school fairs, and other media to connect with prospective students and families; don't just rely on online or any one source.
By adhering to these best practices, you can build a strong and successful brand for your small school that will connect with the community and helps draw in new students and families.
Don't Make These Branding Mistakes
Don't just use any logo, make it unique.
Don't think of your brand as just your logo.
Don't present an inconsistent brand identity.
Don't alter your branding materials often.
Don't make the mistake of never considering your audience in your brand planning.
What makes for good private school branding?
Good branding makes your school stand out, helps customers decide if your service is right for them, and helps people remember your school. Therefore, it's worth your effort.
Through the use of color, shape, and other design elements, branding conveys all of this.
I have yet to have a professional branding specialist. I eventually want to work with one, however, until then I will use the knowledge that I've gained over the years.
Don't forget the "homework," which will help you develop a strong school brand on a budget.
Make your school's branding tell your story. Get started with this!
Other Related Articles On Starting and Running Your Microschool
Marketing for Schools: 10+ BEST Micro-School Marketing Strategies
What Are Microschools & Starting A Microschool In 2023- A Complete Guide
5 Steps To Take Now To Start A Micro School
6 Reasons Microschools Are Refreshing Alternatives to Homeschooling